Envisioned as a place where people can be cared for and receive help, Heartpath Acupuncture Center was born out of Dan's own desire to follow his heart. With humor always an important part of the practice at Heartpath, it is a place where patients can expect to have the space to relax, just be in the moment, and take time out of a busy day to remember themselves. Heartpath led to Dan's enjoyment and passion in life, and at HeartPath, we aim to help you on your own journey toward well-being and happiness with our personalized, practical, and purposeful approach to acupuncture and holistic healthcare.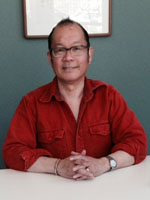 Dan: Some would simply describe Dan as a Filipino from the north side of Chicago with a great sense of humor, but he is much more than that. Down-to-earth, straightforward, and possessing an intuitive understanding of people's needs, Dan began his journey in healthcare at a young age. While many in his family practice Western medicine, Dan began studying Chinese medicine and theory after he became involved in martial arts as a teen. His formative education includes the following:
1980—BA in Psychology and Philosophy from Northeastern Illinois University

1984—Oriental Medicine Graduate of the Midwest Center for the Study of Oriental Medicine, Chicago, IL
He lived in Chicago until 1995, when he moved to Madison, and he has been practicing at Heartpath's current location since 1998. Dan's passion for acupuncture grows out of his desire to provide a cost-effective way for people to cultivate their health and well-being.
Jennifer: Jennifer Hatch, a certified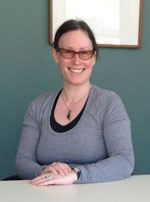 reflexologist and certified practitioner of feng shui, provides the feng shui and reflexology services at Heartpath. Described by others as creative, compassionate, and optimistic, Jennifer grew up experiencing healthcare in her dad's dental practice and knew from an early age that she wanted to carve out her own space in the healthcare community. Studying graphic arts out of high school and then the fine arts, it was an easy transition for Jennifer to study the healing arts where she found reflexology. She began her informal training in the field by collecting foot maps and working on friends and family until she started her formal training at the Holistic Massage and Reflexology Center in Illinois.
Her extensive education and experience includes the following:
1999—Certification in reflexology from the Holistic Massage and Reflexology Center, Downers Grove, Illinois

2001—Graduate of the East/West Healing Arts Institute, Madison, WI

2004—Graduate of the International Institute of Interior Alignment and Dynamic Environments School of Feng Shui (she studied under Eileen Kelz)
She has been at Heartpath for twelve years, and has been practicing reflexology for fifteen. Truly someone who loves her work, Jennifer is excited to offer her services at Heartpath because she believes they not only bring out the innate healing capabilities within humans, but also encourage our instinctual strengths and natural selves.
Get started promoting an overall healthier you. Call (608)280-7999 to request an appointment with Dan and/or Jennifer.